WELCOME TO CAVAN'S CLOSET!
We have been buying and selling Vintage, Estate Jewelry and collectibles since 1985.
If there is something you are looking for, or wish to sell, please contact us.
We have additional items not listed - if you don't see what you are looking for, feel free to ask!
We will be adding additional items, so check back frequently! Some items are shown without prices - if you are interested, please email and I will get back to you!
ENJOY BROWSING!!!
Any questions, please email us - CAVANSCLOSET@AOL.COM
TWO MORE WONDERFUL ESTATE SALES

OCTOBER 6th & 7th
​FEASTERVILLE/TREVOSE

OCTOBER 19th THROUGH OCTOBER 22nd
SOUTHAMPTON PA

SEE PAGES 2 & 3 FOR INFO


EMAIL WITH ANY QUESTIONS!
Garnet & Citrine Bracelet
Bracelet measures 7.5" in length. Garnets wine red in color and citrines a soft lemon yellow. Sterling silver findings and clasp.
PRICE - $59.00

---

Lapis Lazuli Pendant
Pendant measures 3" x 1.25". Workmanship on this pendant is of high quality. The lapis lazuli color is crisp and vivid.
PRICE - $75.00

---
Matching Multi-Color Pearl Bracelet & Necklace

Pearls are not cultured but 7 layers man-made with shell. Double knotted between each pearl.
Necklace is 16" in length; bracelet 7".
Center pearl on necklace & bracelet is 10mm
From the well-known Hong Kong ES Store.
This quality of pearls retail in high end boutiques for over $1200.00 just for necklace alone!
PRICE: $225.00/set


---

CUSTOM DESIGNED HAND CARVED
CORAL BUDDAH GOLD NECKLACE

DESIGNER CAVIER BRACELET
Diamonds & Sapphires in 18K Gold and Sterling Silver
PRICE - 700.00

---

Designer Signed Butterscotch & Baltic Amber Bracelet/Necklace & Earrings
These lovely pieces are designed, created and custom made by Michael S. Cox. Michael is an art jewelry designer from Portland Oregon. He is currently working as an apprentice in Krakow Poland for a small studio. He uses a variety of mediums, including silver, gold, semi precious & precious stones. Most of the stones Michael uses are hand cut and polished to fit each individual piece. All of his work is handcrafted from original designs, fabricated and created with the methods used by Baltic metal smiths for ages. His jewelry can be found throughout Poland in many galleries and art shops. Most of his designs are one of a kind, giving a unique and original feeling to the person wearing them. The necklace is 18" long; bracelet 7.5"; and earrings 2" long. Made of baltic and butterscotch amber set in sterling silver.
PRICE - $75.00 for set



---

David Yurman Ring

18K Yellow Gold Diamond X Ring
Size 4 1/2
33 diamonds - over .40 carats
Signed D Yurman 18K
Price: $700.00

---

18K PIERCED EARRINGS
These earrings were custom made - weight is 5+ grams.
PRICE - $175.00

---
VINTAGE NECKLACES


Raw & polished Citrine necklace - a real beauty!
Price - $175.00


Raw & polished rare Amethyst necklace - an awesome piece!
Price - $225.00



---

FOPE Bracelet
This Fope Designer 8" YG & WG bracelet is adorned with approximately .20 carats of GVS high quality diamonds. The diamonds are set in white gold. Bracelet weights 22 grams. This bracelet can be worn by a man or woman.
PRICE - $1350.00

---
22K Yellow Gold Diamond Teardrop Ring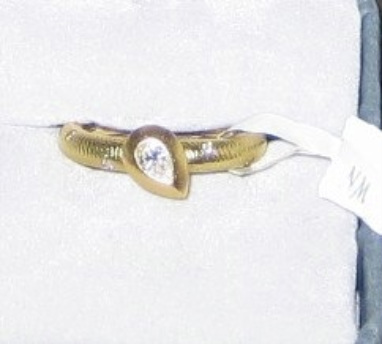 Classy Ring
Size 6
Center stone: .25 carat
Color "G"
Clarity VSI
Weight 6 grams
Ten (10) small diamonds approximately
.015 points each encircle the ring
This has original tags & price of $3000.00.

PRICE: $1450.00
---
Lucien Piccard Runway Necklace

Price $65.00

---

Hand Crafted Estate Piece

This lovely jade creation was hand-crafted in Swaziland. Surely a "Decorator Piece"!!!

Price $37.00

---

VINTAGE WEISS PIN

This lovely vintage Weiss Pin looks as though it has never been worn. The vibrant colors of the amber stones are
beautiful and so sparkly. This piece makes a statement in an understated way!
PRICE $17.00


---

14K Necklace

Beautiful woven gold necklace
Necklace measure 16" in length
Weight is 30 grams
Markings: 14K INT
Woven gold is 1/2"
Lays flat on neck

PRICE: $975.00


---

Pill "Pocketbook"

This lovely purse can hold your pills or your change. Gold
decorated with faux diamonds -
very la ti da!! Signed WORLD
PRICE: $27.00


---